Read about Aurora Class' opinions of our topic...
Owen - "It's exciting because I liked our visit to Eden Camp, I saw bombed houses!"
Mia - "I enjoyed the evacuation role-play because we acted and did some drama work. I learned a lot!"
Omar - "I liked reading and watching Goodnight Mister Tom. It made William's war story real!
Riley - "A Child's War has been excellent. I've loved all of it!"
Grace - "It's been good because we learned what happened in the war."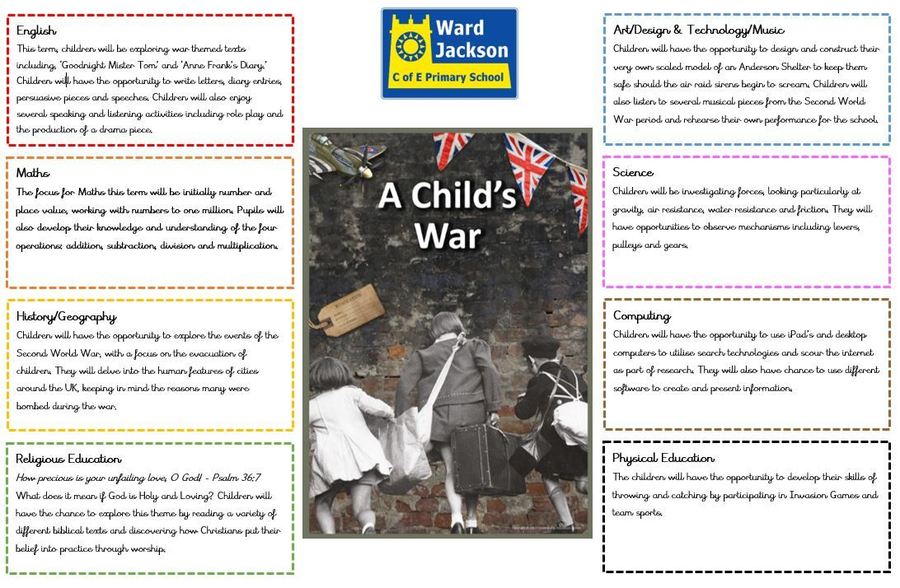 Engage Experience Two: Enlisting Officer – Sargent Hatcher
Pupils experienced what it would have been like to be confronted with an enlisting officer as a child soldier. They were persuaded to join-up by hearing about the role they would play in protecting their country. Following this experience, pupils were able to empathise with the soldiers who were recruited in this way.
Innovate Phase: Diary Entry
It's 1942 and our children are taking on the role of a Jewish child, trapped within a hidden annex in an attempt to evade German capture. The only thing keeping these children going was a close friend, a diary. These diaries tell the personal and quite frankly terrifying stories they were involved in.
Express Phase: Eden Camp
What a brilliant end to our topic exploring by Eden Camp. Pupils were submersed into life during the war, experiencing the Blitz, blackouts, trenches, evacuation and so much more. Everyone loved the puppet show; joining in with some war time songs and getting soaked by the water pistol. A great day was had by all.
Engage Experience One: Evacuation
Pupils were put in the role of a WW2 evacuees, experiencing what it would be like to leave the familiarity of home and family to be displaced elsewhere. Pupils packed their own shoe box filled with memories of home and were sent to stay on a farm. Throughout the experience, pupils reflected on how it made them feel and what it would have been like to experience this in real life. Following this, pupils worked in groups to create a short presentation about evacuation using propaganda posters as a stimulus.
Innovate Phase: Letters Home
Pupils used their experience of an evacuee to write a letter home to their parents from the perspective of a child who had been evacuated to the countryside. In their letter they included where they had been evacuated to, how this made them feel and gave a recount of what happened when they left their family.
Develop Phase: Dig for Victory Art
Children in Aurora class have been working alongside talented Art teacher Keith, to create artwork based on the Dig for Victory campaign from the Second World War. They used a variety of techniques and equipment including coloured inks to create their masterpieces.