Rights Respecting School Award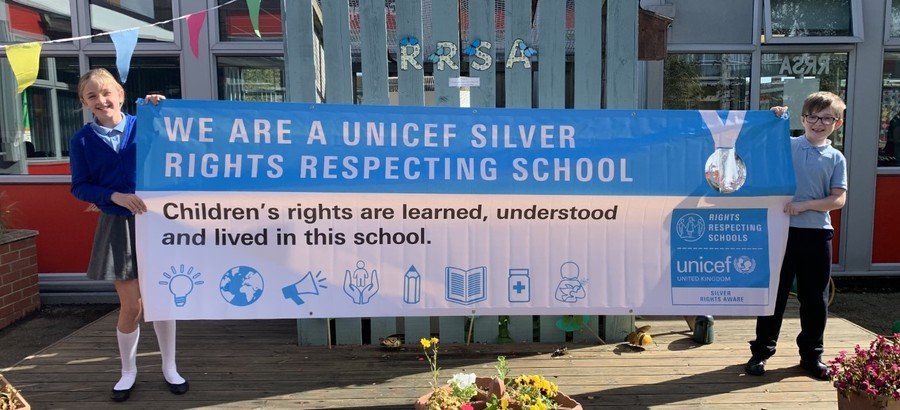 At Ward Jackson Church of England Primary School we are a Rights Respecting School and are proud to say that we have achieved our Silver Award. Only a handful of schools in the Hartlepool area have been awarded this level and we are proud to have been recognised for our commitment to educating children about their rights. We feel that it is important for all children to be aware of their own and the rights of others across the world and to understand the responsibilities that everyone holds in delivering these effectively.
The award is supported by UNICEF who feel that it is important to:
'Create safe and inspiring places to learn, where children are respected, their talents nurtured and they are able to thrive. Our Rights Respecting Schools Award embeds these values in daily school life and gives children the best chance to lead happy, healthy lives and to be responsible, active citizens'.
(http://www.unicef.org/crc)
We are working hard collectively as a school to embed RRSA into our everyday routines and put together a group of 'RRSA Champions' from across the school. They provide the pupil voice for the rest of our pupils; holding meetings, sharing ideas with their class members and working together to develop their ideas.
As a school, we are committed to preparing young people to be outstanding global citizens who demonstrate a committed attitude and respect the world around them. It is with this in mind, that we are a committed to achieving recognition from UNICEF and becoming a Rights Respecting School.
Take a look through our school website to see how we put rights into practice every day.
Fake News!
Article 17: Every child has the right to reliable information from a variety of sources.
Children in Aurora Class have been exploring what Fake News really is and how it can impact the media. In class they designed posters to help other children spot fake news and how to check for reliability. They then moved on to create a challenge for the rest of the school. Watch these news reports below and decide for yourself, are they real or fake?
A Sample of RRSA Whole School Worship Material
Our children linked 'The UN Rights of a Child' to the Centenary Remembrance Worship. Children put themselves in the shoes of others who have been affected by war. Download the Power Point to explore further...
A Guide to RRSA by Ward Jackson Pupils
Launching RRSA - Community Letter