Humanities
Subject Leader: Mrs Campbell
The Centenary Memorial Display created by Y5 and Y6 pupils.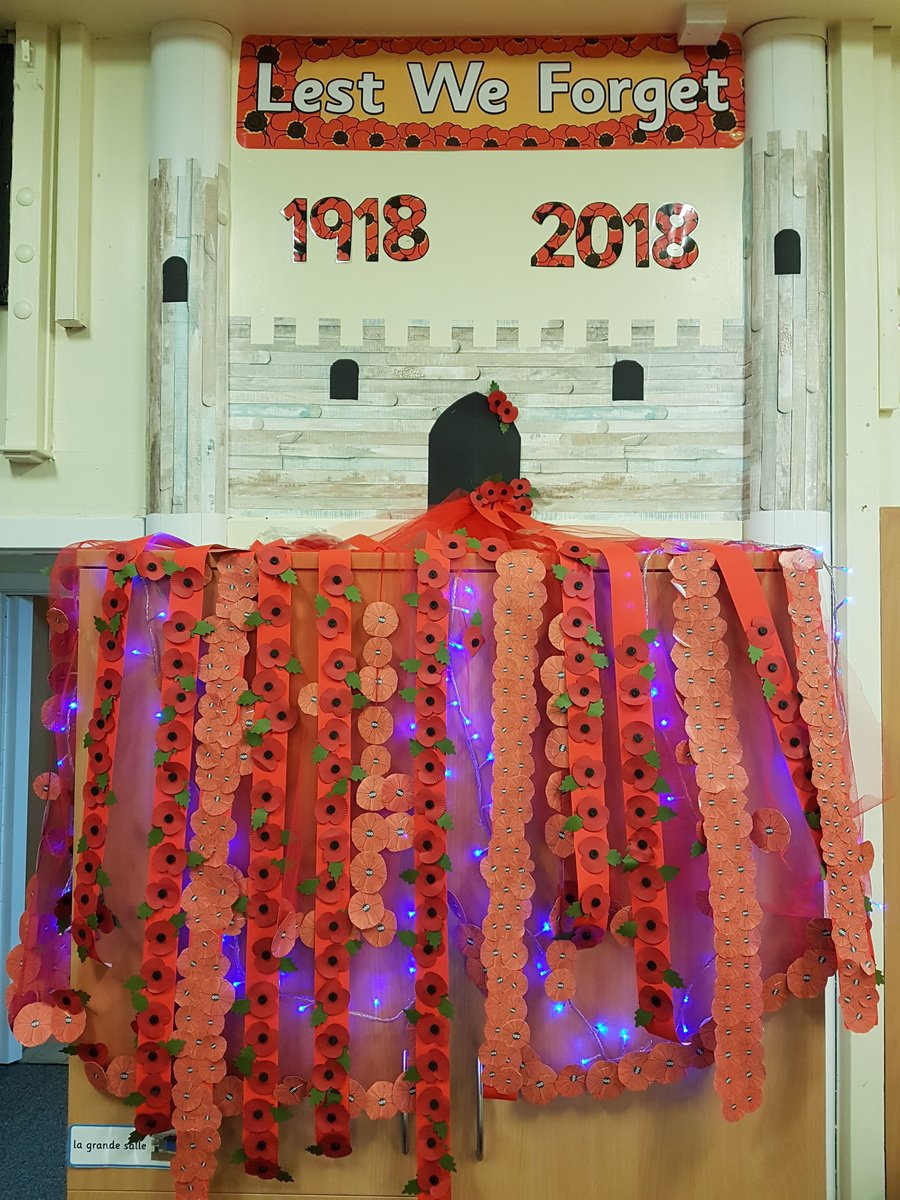 History
'A people without the knowledge of their past history, origin or culture is like a tree without roots.'
(Marcus Garvey)
At Ward Jackson Church of England Primary School we bring History to life for our children. We are advocates of living History and use lots of dramatic conventions within our planning, teaching and assessment in order to help our young Historians gain a deeper understanding of social, cultural, historical and political conditions; we want children to become immersed in historical learning which stimulates interest and understanding about the life of people who lived in the past. We aim for the children to develop a sense of identity and a cultural understanding based on their historical heritage. We teach children to understand how events in the past have influenced our lives today; we also teach the children to investigate these past events and, by so doing, develop the skills of enquiry, analysis, interpretation and problem solving.
The provision and design of our engaging thematic curriculum ensures that historical teaching runs organically through every aspect of our wider curriculum including whole school worships and global events such as the 100 year anniversary of the Suffragette Movement. In addition to this, children annually celebrate the birthday of Ralph Ward Jackson: a local historical figure born in 1806 and the founder of West Hartlepool. 'Ralph Ward Jackson Day' is an annual highlight in our school academic calendar.
Essential skills in History are assessed from Y1 - Y6. These skills include:
Similarities and differences between periods of history and / or sources of evidence
Using subject specific vocabulary in context
Chronology - creating timelines and recalling key historical dates
Significant individuals - historical figures
Local history
Continuity and change
Cause and consequence
Historical questions
Recording
Historical enquiry
View our gallery below to see the range of Historical experiences available to pupils at Ward Jackson:
Geography
The study of Geography is more than about just memorising places on a map. It's about understanding the complexity of our world, appreciating the diversity of cultures that exists across continents. And in the end, it's about using all that knowledge to help bridge divides and help bring people together.
(Barack Obama)
Geography is an integral part of the curriculum as it provokes and answers questions about the natural and human worlds, using different scales of enquiry to view them from different
perspectives. It develops knowledge of places and environments throughout the world, an understanding of maps, and a range of investigative and problem solving skills both inside
and outside the classroom. As such, it prepares our young Geographers for adult life and employment.
Geography is a focus within the curriculum for understanding and resolving issues about the environment and sustainable development. The aim of Geography is to raise awareness of the world around us. At Ward Jackson Church of England Primary School we provide children with a range of Geographical experiences, both in and out of the classroom, which encourage children to build interest and enjoyment, knowledge, understanding and
confidence, as well as allowing them to achieve their maximum potential in this subject.
Essential skills in Geography are assessed from Y1 - Y6. These knowledge strands include practical, knowledge and understanding of Geographical skills:
Human and physical
United Kingdom
The World
Environment
Processes
Patterns
Weather and climate
Places
Changes over time
Express views
Mapping
Field work
View our gallery below to see the range of Geographical experiences available to pupils at Ward Jackson:
Gallery
We have over 30 images in our gallery to provide a snapshot of Humanity teaching and learning at Ward Jackson Church of England Primary School. Please visit our class pages (via the website) and curriculum floorbooks (via class teachers) to discover more about this exciting area of the curriculum.
Pupil Voice - What is a Historian?
It was lovely to chat with pupils across Y1 - Y6 regarding their understanding of the term 'Historian'. Prior to the discussion pupils completed the above task to illustrate their understanding of what a Historian actually is? Eva in Y3 completed a very detailed drawing and Ellie in Y6 drew a picture of herself. It was great to then move on to discussion around the key knowledge, understanding and skills needed in this area of the curriculum. Great work everyone.
Current Historical Events in the Spotlight
We love this source evidence provided by the BBC - it links beautifully to our current year 6 historical study into the centenary of WW1 and the Suffragette Movement. Huge thank you to Maureen, our school governor, for bringing this to our attention. A very interesting read!
https://www.bbc.co.uk/news/resources/idt-sh/A_forgotten_soldier